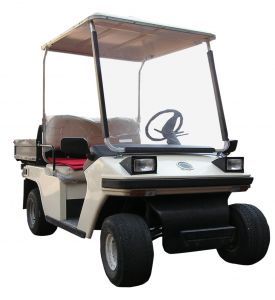 In May of 2012 there was a concert in Peachtree City, Georgia outdoors where people regularly use golf carts as transportation. After the concert, as the crowd was dispersing, a woman, Tracy Self, was with her husband walking out of the concert venue when she was struck by a golf cart driven by William Helm.

Helm did not at first realize that he had struck Ms. Self as he was dragging her a small ways when another pedestrian stopped Helm and pulled the keys out of the ignition. Even through the keys were missing, Helm attempted to drive again before he realized there were no keys in the ignition.
Helm was charged with driving under the influence and went to jail while Self was taken by ambulance to the hospital, and into surgery for broken bones in one of her legs.
As the Plaintiff's Attorney's were ready to file suit, the insurance company, American Strategic, called Plaintiff's counsel and stated that the incident with the golf cart was excluded from the homeowner's policy. Therefore, the Defendant's counsel filed a complaint in Fayette County Superior Court for a declaratory judgment that the insurance company was not liable under these circumstances. The Judge, Mack Crawford, disagreed with the Defendant's contention and granted the Plaintiff's Motion for Summary Judgement.
On appeal, the Georgia Court of Appeals upheld the lower court's ruling and stated that the exclusion language of the insurance policy was unclear and ambiguous, and since the exclusions were not clearly defined, that Helm's Homeowner's Insurance Policy would cover Self's damages. Judge Carla McMillian, Chief Judge Herbert Phipps and Presiding Judge John Ellington wrote the opinion for the Georgia Court of Appeals.
As such, Self's Attorneys made a settlement demand just under the $ 500,000 policy limits and settled at $ 400,000.00. There was not a confidentiality clause so this settlement could be made public. The Court of Appeals case is American Strategic v. Helm, No. A14A0466.
This is a very interesting case. It is not to say that in every instance that someone's homeowner's policy in Georgia would cover this type of incident. What the case is clearly stating, however, is that if it is not clearly excluded, that the Homeowner's Policy could apply to these or similar circumstances.
One could even argue that one's Automobile or Umbrella policy could also apply if this type of instance is not clearly excluded in the insurance policy. Therefore, it is important to read the fine print in the policy to see what is and is not expressly excluded since if you are involved in any type of accident it is sure that the Plaintiff's and the Defendant's counsel will be reading the fine print and applying this law.
At Julie A. Rice, Attorney at Law, & Affiliates, we know how to read the fine print from both the Plaintiff's and the Defendant's point of view. Many of our Affiliates worked for insurance companies defending these types, and other types, of claims before becoming Plaintiff's Attorneys so we know the tricks of the trade which is invaluable in many cases.
If you or a loved one has been injured or killed in any type of accident, then please Contact Us for your free legal consultation. We want to assist you in any way that we can, and we look forward to hearing from you soon.