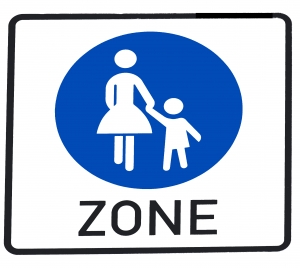 This past Saturday afternoon of Memorial Day weekend a child age 22-months had walked out of his garage and was standing behind the Trailblazer driven by his father when his father was backing out of the drive way, and the child was subsequently struck by the vehicle . The child was first struck by the back bumper and then ran over by the back tire.
The parents both rescued him from under the vehicle and then took him to the fire station where a helicopter was called, and the child was flown by Children's Health Critical Care Helicopter to Egelston Hospital where he was immediately treated by the critical care team. The young boy is now reported in stable condition and expected to recover. The case is being investigated and no charges are anticipated in this incident.
My heart goes out to this family and I hope for the young boy's speedy and complete recovery. These types of cases, which I have written about before in my blog post about a grandfather who ran over his grandson and killed him, and on my website, about Pedestrian and Bicycle Accidents, are incidents can and do occur any where, any time, and even in our own driveways. These types of accidents can be devastating and many end in severe and deadly injuries. As such, it is imperative that as both drivers and pedestrians that we use the best practices to watch out for each other on the roads to prevent these types of incidents.
As stated previously, we must teach our children about the rules of the road. The National Highway Traffic Safety Administration (NHTSA) has set for very specific rules that we as Parent and Caregivers can teach our children to make sure that our children are safe every time they leave the house, and the the NHTSA has provided the following informational material on it's website that we can use to teach our children the best practices as Pedestrians on the Road:
1.) Everyone is a Pedestrian!: This is is a brochure that reiterates that whenever you are not in your vehicle, you are a pedestrian! This brochure offers tips for both drivers and pedestrians to stay safe while sharing the road.
2.) Prevent Pedestrian Crashes: Parents and Caregivers of Elementary School Children: This is a brochure that is meant specifically for Elementary school children since that very active and impulsive. Although they are learning and growing, school-age children 10 and younger still need guidance and supervision when playing and walking near traffic, and in this brochure you will learn about myths and facts.
3.) Five Tips to Keep Your Children Safe on Their Way To and From School: This brochure will strengthen your traffic safety knowledge, and assist you in teaching and reinforcing your children's pedestrian safety habits.
4.) Resident's Guide for Creating Safe and Walkable Communities: This is a brochure that is provided if you want to improve the walkability of your neighborhood, and you learn from the examples of other communities working to improve pedestrian safety.
5.) Walkability Checklist – English and Spanish and Asian Languages. This brochure explores how walkable your community is, and invites you to take a walk with your child and find out for yourselves.
The NHTSA also has materials designed specially for children and can be found at the same link as above. The materials are as follows and # 2 includes a DVD:
1.) A Kid's Guide To Safe Walking: This is a colorful brochure that will help you teach your young children safety tips for crossing the street and things to remember when walking.
2.) Movie for Kids: Stop and Look With Willy Whistle: This movie introduces your child(ten) to Willy Whistle, a lively, animated character featured in this DVD designed to teach K-2 children pedestrian skills for crossing residential streets.
I encourage you to Contact Us by and or all of the following means by phone at 770-865-8654, (813) 363-6664, by email juliericelaw@outlook.com, through this blog site, or on our website, if you or a loved one has been injured or killed in a Pedestrian or Bicycle accident as were are experts in these types of cases, and we are here to help you in these most tragic situations. I also encourage you to visit our website under Pedestrian and Bicycle Accidents (link above) for more information; we update our material on our website regularly so please feel free to visit often. We look forward to hearing from you soon.