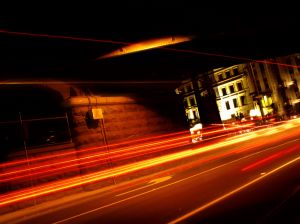 This most tragic incident began on January 19, 2010 when Christa Scott, then age 26, went to work at her job as a waitress for the once popular drinking and clubbing hotspot in Midtown, Atlanta, Georgia, Door 44. That night Door 44 was the host of a "Scallywags Ball" that was inviting patrons of the club to, "Come Get Stewed, Screwed, and Tattooed," which was code for what the club was known for, wild partying and drinking. The bar not only hosted such events, it also encouraged its employees, like Scott, to drink with patrons and had employees do shots before shifts also known as "shift shots".
On the same fateful night that Christa Scott was getting drunk on the job, a young Jordan Griner was the designated driver for himself and other interns of Georgia's then Governor Sonny Perdue's office. The responsible Griner had dropped off all of those that he was driving home that evening and was heading home himself that night when he was driving West on 17th Street in Atlanta, Georgia.
At the same time, the drunk waitress Scott was driving on West Peachtree Street when she ran a red light striking the driver's side of Griner's vehicle. Jordan Griner had to be extracted from the vehicle and was later pronounced dead at Grady Hospital. The parents of Jordan Griner would never see their son alive again. Scott, on the other hand, walked away from the accident and went to a nearby establishment asking for a drink of water in an attempt to cover up her noticeable and obvious intoxication.
Later it would be discovered that Scott's Blood Alcohol Count (BAC) was .229 which is just about three (3) times the legal drinking limit in Georgia. Scott stated in court documents that she recalled having seven (7) alcoholic beverages that night. Expert testimony contradicted Scott's recollection and indicated that her BAC was for a person who had at least nine (9) to twelve (12) or more alcoholic beverages. The police on the scene of the accident also noted that Scott could not stand without assistance.
Not only was it noted that Scott was intoxicated that evening, but that the club was also aware that she had past drugging and drinking issues, and, on that night other employees had tried to reason with her not to drive. Instead of not driving, Scott elected to take a hit of marijuana and then get behind the wheel. Furthermore, the club's part owner, CEO, and manager, Jayne Coffee, along with other club employees, had, on more than one occasion in the past, to drive Scott home after work as she was too intoxicated to drive.
Scott was sentenced to five (5) years in prison and then five (5) years on probation with the condition that she carry a picture of Jordan Griner with her during her entire sentence. Griner's family filed a Wrongful Death Action based, among other things, on Georgia's Dram Shop Liability Act. According to Coffee's attorney for her in other matters, Coffee did not try to obstruct or otherwise delay Griner's family from proceeding with an action against the club's insurance company. This statement is contradictory to the fact that Coffee did file an objection in the action without counsel to attempt to save the club's attorneys from being ordered off the case, but her objection was ultimately denied.
The case takes many other different turns after that terrible night that I will discuss in my next blog post titled, "A Midtown, Georgia, now Closed, once Popular, Night-Club has a Default Judgment of over $ 10 Million Against it in a Dram Shop Liability Wrongful Death Action ~ part two."