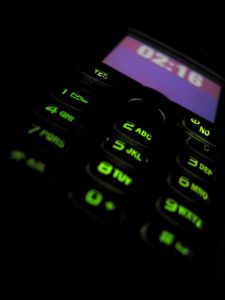 This blog post will continue my discussion of a Motor Vehicle Accident case in Atlanta, Georgia that I began discussing in my blog post titled, "In Fulton County, Atlanta, Georgia a Jury awards $1.5 Million for Injuries sustained by a 7 Year Old Child from a Driver that was Texting and Driving ~ part one." Ms. Anderson, Chasity's mother who was driving at the time of the accident when she was reared ended by the driver that was texting and driving, was also injured in the accident but settled her injury claim, filed a lawsuit on behalf of her daughter in Fulton County State Court in the year of 2009. The case is Anderson v. Brenner, No. 2009EV007726.
In this case, there would be no dispute that the Defendants, Mr. Brenner and the lawn company who owned the vehicle he was driving at the time of the accident, were at fault in the accident as the driver, Mr. Brenner, would admit that he was texting a customer while driving and when he hit the vehicle carrying Ms. Anderson and her then seven (7) year old daughter, Miss Chasity. What would be at issue was whether or not Chasity, who was fifteen (15) years old at the time of trial, had, in fact, made a full recovery.
After demands for settlement and mediation, the parties were still $ 500,000 apart on what the case was worth resulting in a jury trial. At trial, the jury would hear the testimony of Chasity's ophthalmologist that she had visual impairment in one eye. Chasity's therapist would testify that she was treated for ADHD but that she had failed to take the medicine as prescribed and that she had not been in therapy for a time. The Defense would not call any witnesses. With a somewhat weak case in terms of whether or not young Chasity was fully recovered, the Plaintiff would proceed to present a case to the jury based on the injuries and the pain and suffering of the young girl.
The conservative jury would take two (2) hours to deliberate on January 23rd and return a verdict for the Plaintiff in the amount of one and a half million dollars and No/00ths ($ 1,500,000.00). The Defense Attorney talked to one juror and stated, "He said they just wanted to be sure they were fair to the injured girl."
The young girl and her mother in this accident were very lucky. The young girl almost died and without therapy may have been paralyzed on one side of her body for an extended period of time if not for the rest of her life. The driver admitted that, at the time of the accident, he had been texting and driving. What a tragedy that could have been avoided had the Defendant not been texting and driving. This can not be emphasized enough in cases such as this one at bar.
This act is criminal in nature since it has been linked to accidents such as the case discussed herein that involved a Catastrophic Injury, and it has also been linked to accidents that have resulted in Death. If you or a loved one has been injured in a Motor Vehicle Accident involving a Distracted Driver, then please Contact Us as soon as you can to discuss your case. We can reached by phone at (770) 865-8654, or (813) 363-6664, by email at juliericelaw@outlook.com, by the Contact Form on our website, and/or by the Contact Form here on our blog.
We look forward to speaking with you and working with you so that you receive all of the just compensation that you or your loved one deserve in your case.