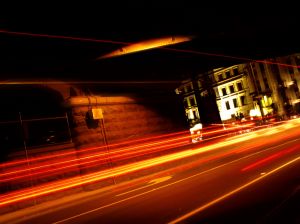 This is a very interesting case that began as a relatively straightforward auto accident case in Georgia involving three (3) vehicles where the accident report and the complaint both seemed to clearly establish the negligent driver in the accident. This case, however, turned into a case with many twists and turns where not only the police report, but also the complaint filed with the court, were in conflict with a witness who mysteriously appears later and calls into question who actually caused the accident.
As most of us Automobile Accident Attorneys know, there is no such thing as a slam dunk in any case, or, as known in the legal field, rarely are you fortunate enough to have a case that stands on all fours (i.e. where all the elements of the incident along with the case law are 100% in your favor). There are, however, some cases that are less complicated than others, and often in Automobile Accident Cases if you can prove liability on the part of the other party, or as in this case other parties, then you are half way there to a favorable result in your case as the next hurdle is to negotiate, settle, or prove at trial damages which tend to be less ambiguous.
A real problem can occur, however, as happened in this case, when a witness comes out of nowhere and puts everyone into a tail spin over the facts of the case itself. It's one thing to know factually what actually happened in your case, and then to have to negotiate a settlement based on numbers that are most likely more clear than accident reconstructions.
It's another thing when you think you have a strong case where the factual liability hurdle has been crossed and you know who was at fault, and then you find out that you may have to go back and cross that first hurdle or that the lines were less clear than you originally thought. It becomes even more of a problem, as also occurred in this case, when you have a mystery witness that has memory problems and doesn't appear to be "standing on all fours".
I will continue my discussion of this mystery case in my next blog post titled, "Automobile Accident that Causes a Chain Reaction brings a Georgia Plaintiff a $ 5.475 Million Dollar Recovery, but not without some mystery to the case ~ part 2." I will also discuss the take away from this most fascinating case in my next blog post as well.
At Julie A. Rice, Attorney at Law, & Affiliates we are experts at representing people in the most complicated Motor Vehicle Accidents so if you or your loved one has been involved in a Motor Vehicle Accident of any kind, then please Contact Us today for your free legal consultation. Even if your case does not stand on all fours, we will be in your corner fighting for the most amount of compensation that you deserve under the circumstances.
We look forward to speaking with you soon!