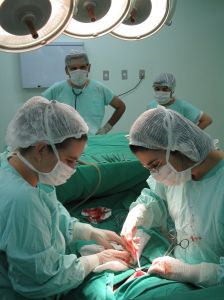 In April, 2004 now deceased Mark Kravitz was admitted to WellStar Cobb Hospital in Georgia to have surgery performed to relieve herniated discs on two (2) cervical vertebrae by fusion and discectomy to be performed by Defendant neurosurgeon Dr. Omar Jimenez. The surgery was a success.
After the surgery, however, Mr. Kravitz's neck began to swell and the circumference of his neck was increasing. Dr. Jamienez ordered that Mr. Kravitz's neck have an ice pack placed on it. Later he prescribed Mr. Kravitz a drug for nausea. It appeared that Mr. Kravitz was comfortably resting until, after several hours, he complained of neck pain and nausea. He was then given an anti-inflammatory.
Within fifteen minutes after the anti-inflammatory drug was given, Mr. Kravitz called for a nurse. The nurse noted that Mr. Kravitz was then short of breath and in distress. Despite being put on oxygen, Mr. Kravitz went into respiratory arrest and could not be revived.
At some time between the Mr. Kravitzs' condition becoming worse and prior to his death, Mr. Kravitz was moved to the intensive care unit.
The Plaintiff made an offer to settle for $ 1 Million Dollars which was the policy limits of the Medical Malpractice Insurance Policy. Other than that, it is reported that there were no other discussions of settlement or even mediation.
In 2006, Mr. Kravitz's widow, Chompok Kravitz, sued WellStar Health System, Dr. Jamenez, and Dr. Jamenez's employer Georgia Spine and Brain in Fulton, Georgia State Court. The Plaintiff's claim was that the nurses at WellStar Hospital were responsible as well as Dr. Jimenez and that something more should have been done such as an imaging study, a consultation, or the like.
WellStar settled out of court in 2007 for a sum that is confidential, and the jury was told this fact during opening statements.
What was one of the most interesting aspects of this case was that Dr. Jimenez's hospital privileges had been suspended less than two years after the death of a 53 year old man named Mark Kravitz. Additionally, Dr. Jimenez had also been the subject of eight (8) other medical malpractice lawsuits in Nebraska and Georgia after and before this incident.
Attorneys on both sides of the case acknowledged this fact and yet the defense was able to keep the jury from hearing this evidence.
It is also interesting to note that the Plaintiff's attorney stated that one of the defense witnesses even acknowledge that medical malpractice has been committed and that Mr. Kravitz's death could have been prevented.
On October 30 the trial began and it continued until November 3. Many expert witnesses for both sides including neurosurgeons and pulmonologists were called to testify. The main focus of the trial was what Dr. Jimenez should have done under the circumstances. The trial lasted three (3) days. The jury deliberated for approximately 2 1/2 hours before returning a verdict in favor of the defense.
The Plaintiff received nothing for the death of her husband.
Apparently, the jury said that they were leaning in favor of the doctor before the evidence was even presented and it appeared that the jury could never get around that. This took the defense by surprise. The case is Kravitz v. Jimenez, No. 06VS096463.
At Julie A. Rice, Attorney at Law, & Affiliates we are legal experts at representing Victims of Medical Malpractice and families whose loved ones have died due to Medical Malpractice so if you believe that you or a loved one has been a victim of medical malpractice, then Contact Us for your free legal consultation.
Since there are very strict time limitations in these types of cases, it is important that you contact us as soon as you suspect that Medical Malpractice or a Wrongful Death has occurred.
We look forward to hearing from you soon and assisting you with your case.