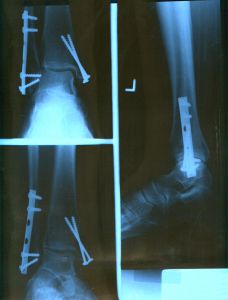 A driver in Georgia who hurt his knee when he swerved to avoid pipes falling from a flat bed truck received a jury award for a total of $ 608,980. The verdict included medical expenses, plus $365,627 for lost earnings and $204,500 for pain and suffering. The case is Stepien v. Hawk Plastics, No. 2010-3856-5.
The Plaintiff argued that his knee was injured in the accident and that made him give up working as an insurance adjuster since he could no longer climb ladders to do his job. The defense, however, is appealing the over $608,000 verdict admitting that there was liability for the falling pipes, but that the knee injury was due to an old injury and not the accident.
As we have stated in our Trucking and Tractor Trailer Accident page on our website, failing to properly secure a load is a reason for a truck driver or trucking company to be held liable for an accident and, in fact, in this case, the truck driver was cited for failure to secure the load. One big challenge that the Plaintiff in this case faced, however, was that he did not go to the hospital in an ambulance following the incident and instead went to his hotel and tried to keep working.
As we have said in our previous blog post about the importance of getting immediate medical attention following an accident, if a person fails to do so not only does that person hurt their legal case, that person faces the possibility of not getting well as quickly, or at all, following an accident. It is imperative that after an accident that you seek medical attention immediately, and if you can leave the scene in an ambulance to get immediate medical care that you promptly do so, even if you do not think that you are hurt.
In this case, the Plaintiff did start to feel pain after the accident and went to the emergency room but was not treated properly and when he saw a doctor much later that doctor said that the accident did not cause the injury, and that was a major turning point for the defense in this case. Although the Plaintiff did receive a verdict, as stated earlier, the defense will now appeal on the grounds that the accident did not cause the injury and, therefore, the Plaintiff is not entitled to recover.
When involved in an accident, it is imperative that you follow the steps we have outlined in our prior blog posts about what to do following an accident. It is especially important to follow these steps when involved in a trucking accident as the insurance companies, like all insurance companies, for trucking companies are very aggressive and will be looking into every detail of the accident and look for any reason to be absolved from liability in these types of situations.
Trucking and Tractor Trailer accidents can cause severe injuries and death, as with all accidents, so it is very important to follow the proper steps after such an accident to protect your rights and also to allow yourself the best chance of recovering from your injuries. Part of what needs to be done is to contact an attorney as early on in the process so that the attorney can begin the investigation before there is any spoliation of evidence and so that you are at the same advantage as the trucking company in these situations.
We are experts at representing people who have been involved in trucking accidents so we encourage you to contact us immediately following such an accident so that you preserve your legal rights and have the best chance at a full recovery. You may contact us at any time at (770) 865-8654.