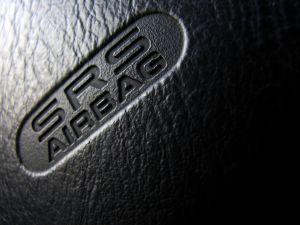 Deaths and serious injuries involving air bags made by Takata Corporation that allegedly explode and cause metal shrapnel to hit drivers have placed the legal sites on Takata Corporation and have resulted in several lawsuits Nationwide. Takata Corp. manufactures air bags for over 50 models of cars from companies including, but not limited to, Ford, Chrysler, GM, BMW, Honda, Nissan, Mitsubishi, Toyota, and Subaru.
Although the exact number of lawsuits and recalls is currently unknown, it is estimated that approximately 7.8 million trucks and cars of U.S. models manufactured by ten (10) different auto makers have been recalled to date.
As a result of Takata's air bag alleged defects, there have been at least three (3) Nationwide Class Actions filed, two (2) lawsuits in Federal Court filed, and numerous recalls issued by the National Highway Traffic Safety Administration (NHTSA) encouraging drivers to "act immediately" to have their cars repaired of the defect.
If you are concerned about your vehicle for any type of defect or recall, then you may visit the NHTSA's website here and enter your vehicle information for a list of recalls that could potentially pertain to your vehicle.
In the case of the Takata airbags, despite the NHTSA's diligent efforts insisting upon recalls, the organization was criticized by legislators for not insisting that the recalls were made Nationwide as the recalls were initially only limited to vehicles in humid and hot climates such as Texas, Puerto Rico and Florida. The reason the scope was so limited for the recalls in the beginning was that it appeared that the problems were caused in part due to climate conditions such as high heat and humidity.
For example, a case was filed in Puerto Rico for $ 2 million for a woman who suffered hearing loss, another case was filed in Florida on behalf of a woman who suffered injuries from shrapnel piercing the air bag, two (2) class actions were filed in Texas and Miami, and one complaint has been filed in the Southern District of Florida for consumers of Puerto Rice and six (6) other states.
There has also been a Nationwide class action lawsuit filed in the Central District of California, the headquarters of the subsidiary of U.S. Honda, and this lawsuit has named Takata, Honda, Toyota, and Nissan as Defendants. The complaint in the Southern District of Florida referenced above also names BMW, Honda, Toyota, and Ford as well as Takada as Defendants.
Both of these suits, and more to surely follow, indicate that the car manufacturers are far from being off the hook in this litigation arena.
The auto manufacturer that seems to be the most culpable at this point is Honda according to three (3) class actions alleging that not only Takata knew of the defect as early as 2001, but that Honda also knew about this problem for years, citing a 2004 accident in Alabama. Furthermore, two (2) accidents happened again this year involving Hondas and one accident involved a death where the driver was found dead from stab wounds.
In 2008, Honda recalled 4,000 Civics and Accords and in 2009 recalled another 400,000 vehicles after two (2) more accidents. It does not seem like a coincidence so Honda owners should be especially mindful of this litigation and take action accordingly.
If you or a loved one has been injured or killed in a motor vehicle accident where you suspect a defect in the vehicle whether it be an ignition defect, tire defect, air bag defect or the like, then Contact Us for your free legal consultation.
We have represented many people in cases such as this and it is imperative given the nature of these types of cases that you seek legal counsel in a timely fashion.
As stated recently by an advocate for taking these claims seriously, "If Takata and vehicle manufacturers aren't able to timely address this problem, consumers will have to do it themselves, park their vehicles, rent cars and pay for it themselves."
Don't put yourself in that most unfortunate situation and contact us as soon as possible.
We look forward to hearing from you soon!